Jump to:
System Description | Hazards | Approved Users | Documentation | Controls | Recommended Practices | Maintenance | Emergency Procedures | Revision History
System Description
Manufacturer: Coherent, Inc.
Product Name: Micra
Model: Micra-5
Serial Number: 1111471.10151
Date of Manufacture: 4/6/2011
Location: KEB 2135
Laser type: Modelocked Ti-Sapphire Laser
Laser Classification: Class IV
Wavelength (Center): 800 nm
Repetition Rate: 80 MHz
Pulse Duration: 15-50 fs
Average Power (energy): 360 mW (4.5 nJ)
Beam Diameter: 0.75 mm
Hazards
Eye/vision:  Visible and/or invisible laser radiation. Avoid eye exposure to direct or scattered radiation. Direct eye contact with the output beam from the laser will cause serious damage and possible blindness. Appropriate laser safety eyewear must be worn by all personnel present in laboratory while laser is operating.
Skin/burn hazard:  Laser radiation can damage skin or clothing.
Electrical:  Removing the power supply cover will expose the user to potentially lethal electrical hazards.
Chemical:  Potential hazard resulting from interaction of the laser beam with volatile or flammable substances.
Approved Users
All users must have completed the mandatory Laser Safety training:
https://des.umd.edu/risk_comm/edu/training.cfm
Further, all users must receive proper safety training from the PI, other authorized users, or Coherent service technician before operating the Micra.  The following are currently authorized users:
Mehdi Jadidi
Kyowon Kim
Shanshan Li
Ryan Suess
Documentation
Hardcopy manual can be found in the black plastic box for the Micra, which is stored in the cabinet near the Libra.
Controls
Recommended laser safety eyewear:
When Micra head cover is in place, users should wear safety glasses to block 700-900 nm.  Suitable filters include: Laser Safety Industries 245, Sperian 119, or Noir LaserShield ML5
When head cover is removed, safety eyewear to block both 532 nm and 700-900 nm is required.  Suitable filters include:  Sperian 123, Laser Safety Industries 260
When fiber optic cable is disconnected, safety glasses should cover both 808 nm and 1064 nm.  Suitable filters include:  Laser Safety Industries 245, Sperian 107, Noir LaserShield ML5
When the laser is in use, switch of power supply controller (shown in Fig. below) is turned to on and LASER EMISSION light is on.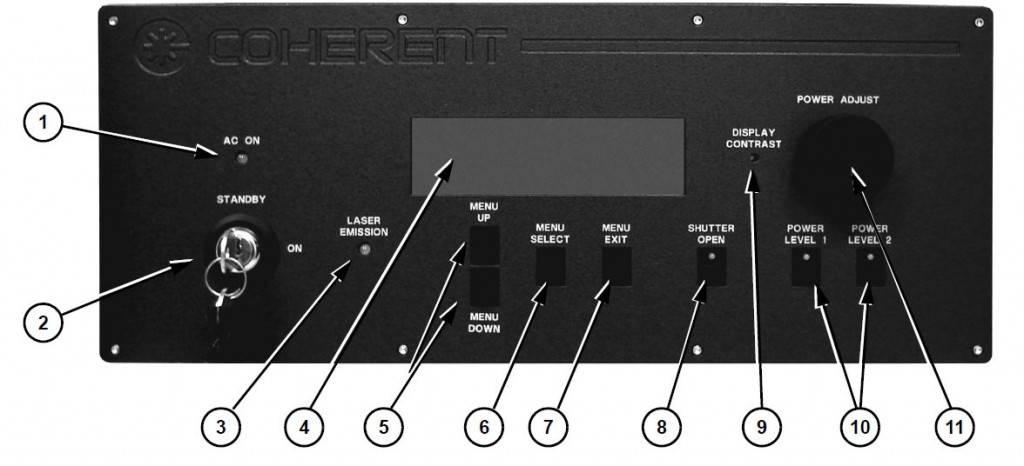 Recommended Practices
After turning the switch from STANDBY to ON, please wait 5 minutes for system to stabilize. If system is working correctly, display of power supply controller will tell user laser status (CW or modelocked), Micra power, Verdi power, and Verdi FAP current. When seeing error on front panel, press MENU EXIT button to exit fault display. If fault message still exists, please check manual for corresponding solution.
The business card of coherent technician is perfect to be used as fluorescent card. Recommended spectrometer for Micra is PHOTON CONTROL INC. HIGH RESOLUTION SPECTROMETER. When users check Micra spectrum and find a spike at 790 nm, counterclockwise rotate PR1 micrometer to remove glass present in cavity. PR2 does not need to be regularly adjusted. Please use PR1 to set desired bandwidth.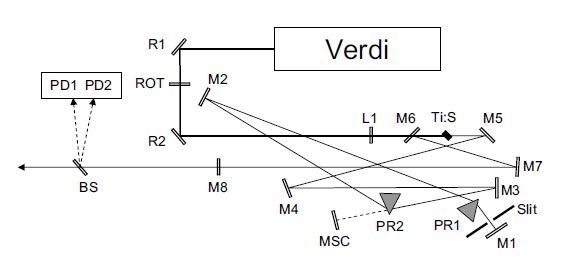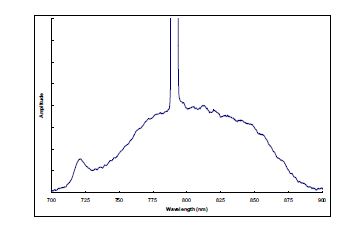 Maintenance
Changethe Micra chiller water (black unit) every month.
Clean Ti: Sapphire crystal every 6 weeks.
Data log can be found on cover of Libra. Please check it before changing any settings. Once users make any changes, please fill in one blank data log to record new laser status.
Emergency Procedures
In emergency, please contact:
Thomas E. Murphy (PI), ERF 1201J, 301-405-0030
Shanshan Li (GRA), KEB 2140, 301-405-9614
In the event of a life-threatening emergency, call 911 immediately.
Revision History
Created:  2/14/2014 (Shanshan Li Kim)