Jump to:
System Description | Hazards | Approved Users | Documentation | Controls | Recommended Practices | Maintenance | Emergency Procedures | Revision History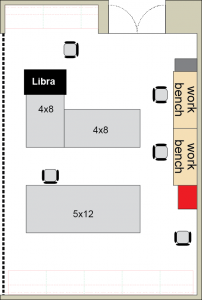 System Description
Manufacturer:  Coherent, Inc.
Product Name(s):  Libra HE
(Note:  system also includes integrated Evolution, Micra, and Verdi)
Model:  L-USP-1K-HE
Serial Number:  156293
UMD Property Tag:  201452
Manufactured Date:  3/25/2011
Location:  KEB 2130 (see map above)
Laser Type:  Amplified Ti-Sapphire Laser
Laser Classification:  Class IV
Wavelength (Center):  800 nm (internal pump lasers operate at 532 nm)
Repetition Rate:  1 kHz
Pulse Duration:  35-50 fs
Average Power (energy): 3-4 W (3-4 mJ)
Beam Diameter:  approximately 1 cm
The laser is located in KEB 2135, in a large black enclosure that is located on the L-shaped table near the front of the lab, as indicated in the figure.
Hazards
Eye/vision:  Visible and/or invisible laser radiation. Avoid eye exposure to direct or scattered radiation. Direct eye contact with the output beam from the laser will cause serious damage and possible blindness.  Appropriate laser safety eyewear must be worn by all personnel present in laboratory while laser is operating
Electrical:  Removing the electrical power supply cover will expose the user to potentially lethal electrical hazards.
Skin/burn hazard.  Even when not focused, the beam emerging from the laser can cause serious burns or damage wherever the laser is absorbed on stationary surfaces, including skin or clothing.
Approved Users
All users must have completed the mandatory Laser Safety training:
https://des.umd.edu/risk_comm/edu/training.cfm
Further, all users must receive proper safety training from the PI, other authorized users, or Coherent service technician before operating the Libra.  The following are currently authorized users:
Mehdi Jadidi
Kyowon Kim
Shanshan Li
Ryan Suess
When the laser is in use, a sign should be placed on the door, advising all visitors and laboratory personnel of the wavelengths in use.  All personnel entering the laboratory (whether or not they are using the laser) must wear the appropriate laser safety eyewear.  Under normal operation, the 532 nm pump lasers are enclosed inside of the system.  Under this condition, it is permissible for users to select laser glasses/goggles that block the 800 nm output wavelength.
Documentation
Hardcopy manuals for Libra amplified laser system, Single Shot Autocorrelator (SSA), Micra, Evolution, Compact Pulse Compressor (CPC), Synchronization and Delay Generator (SDG) are available in the laboratory. Users can find them in the black plastic box for Micra, stored in the cabinet near the Libra.
Controls
Under normal usage (when the Libra cover is installed), users may wear safety glasses to block the 800nm wavelength. When the Libra cover is removed, users should be advised to wear protective eyewear that covers both 800 nm and 532 nm.  If there is a need to align the 532 nm pump laser, then one may choose specialized goggles that permit weak transmission of 532, in order to better observe diffuse 532 nm radiation on an index card.
The way to tell whether laser is on or off is to check as the following procedure:
If any other users in the lab, please ask them what's the proper safety eyewear.
First check the laptop placed above the Libra, if laser is in use, the laser active sign( Fig2(a)) would be bright green. Then, check the front panel of COHERENT SDG placed on the oscilloscope near the laptop, if LED lights of PD1, PD2 and CONTINUOUS  are on, the Libra is delivering high power laser(Fig2(b)).
An external inter lock connector is provided on the SDG rear panel. When the toggle switch is in the ENABLE position, the system will not operate with this circuit open.
Although Libra is designed to be insensitive to environment temperature, it's recommended that the temperature should be controlled within ±2 oC.
Recommended Practices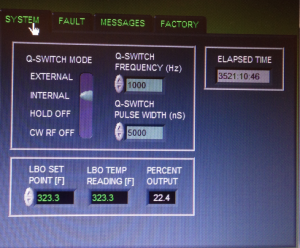 After turning the evolution front panel switch on, long press the RUN button (if former turn-on procedure is right, it would be bright green) on computer screen until you hear beeping. If the RUN button is dark green and you are sure former procedure is right, please check the Evolution SYSTEM setting: Q-SWITCH MODE should be INTERNAL (Fig3).
Before resetting SDG, please wait until evolution CURRENT MONITOR reaches the value shown under CURRENT SETTING (A).
It's not recommended to change the PC 1 and PC2 delay in daily use.
When you leave the lab and the experiment is not in process, please press the SDG MODE button to change the status from CONTINUOUS to SINGLE SHOT. If it's not necessary, please do not leave laser on overnight.
The business card of coherent technician is perfect to be used as fluorescent card. When users want to check the status of laser, following tools are recommended:
Powermeter: Coherent FIELDMAXII-TO
Spectometer: PHOTON CONTROL INC. HIGH RESOLUTION SPECTROMETER
Autocorrelator: Single Shot Autocorrelator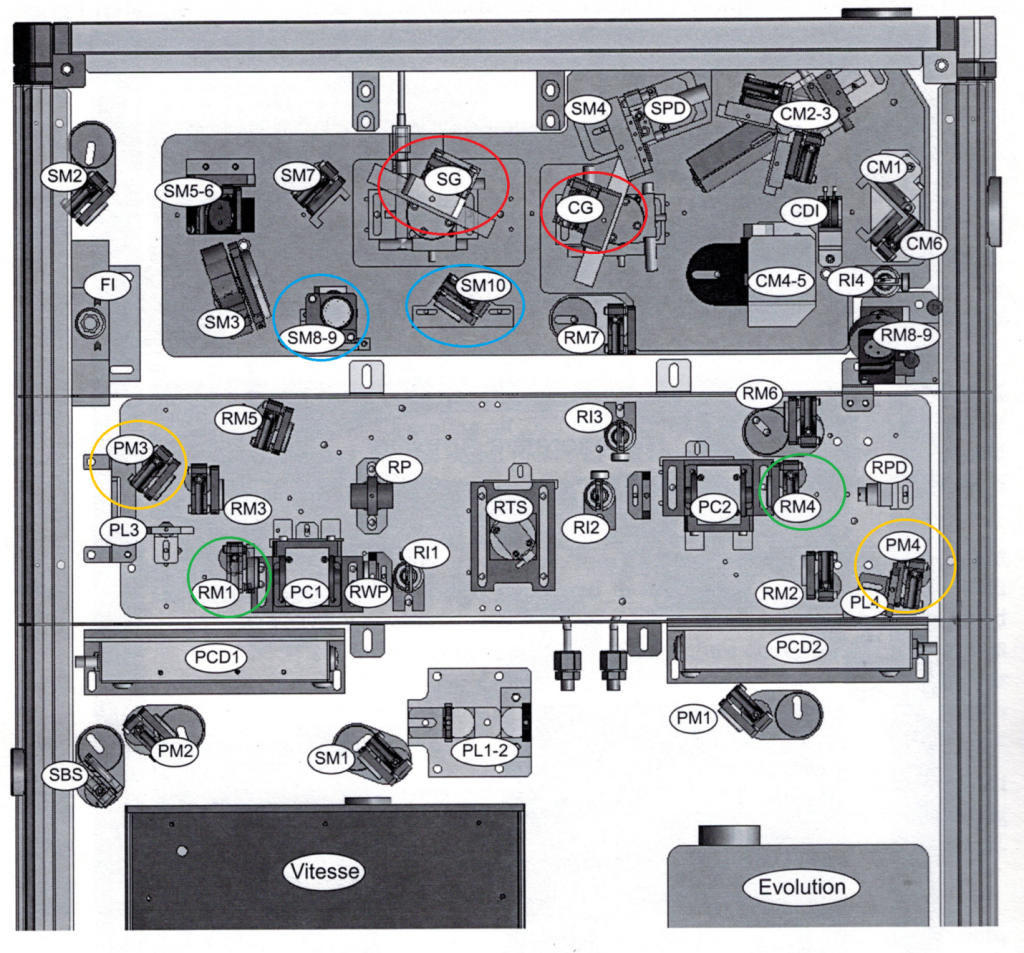 If the laser power is decreased under 3W, please check following steps to tune it up.
Please clean the Micra Ti: Sapphire crystal before making any change.
Blue circles are the seed beam routine mirrors just before entering Regen Amplifier. Please check the alignment between SM8-9 and SM10, SM10 and RTS.
Green circles are the end mirrors of the cavity. Please adjust the RM1 a little bit to check power change. Small adjustment of these two mirrors can lead to big power change.
Yellow circles are pump beam routine mirrors. Change of these mirrors will have big effect on laser mode. Please make sure they are well aligned.
Because of system aging, users can adjust the LBO temperature to increase Libra output power. Try to increase the LBO temp by 0.3F each step and check the power change. When the increment causes decrease of the power, go back to the previous temp.
Users can also increase evolution current to increase power, but please be aware that this will make system aging faster.
Maintenance
Chiller Maintenance: Under typical conditions, please replace the filters every three months, and drain and replace the coolant every year. Change Libra chiller (white one) water every three months. Add Optishield solution to the Libra chiller water. Change Micra chiller water (black one) every month. Please use distilled water for both chillers.
Cleaning Optics:
Never clean a gold surface or diffraction grating (Red circles in Fig. 4).
Please wear powder free gloves, fold lens tissue, wet tissue with drops of methanol or acetone, and wipe the optics in one direction and one pass. Repeat until optic is clean.
Please clean Ti: Sapphire crystal inside Micra every 6 weeks.
A data log is attached to this standard operating procedure file. Please check it before changing any settings. Once users make any changes, please fill in one blank data log to record new laser status.
Emergency Procedures
In emergency, please contact:
Thomas E. Murphy (PI), ERF 1201J, 301-405-0030
Shanshan Li (GRA), KEB 2140, 301-405-9614
In the event of a life-threatening emergency, call 911 immediately.
Revision History
Created:  10/13/2013 (Shanshan Li)
Revised:  10/15/2013 (T. E. Murphy)